Interior of the Rothko Chapel, Houston, TX
On on of the medical school secondary applications, there is question "If you could have three people of your choice (living or dead), over for dinner, who would you invite and why?"
Now is this just a silly question, or is this preparation for a career raising the dead? There's a great unmade Roger Corman movie about two slacker med-students furiously filling out their residency applications. Heres my ONE MILLION DOLLAR script:


Students bring back dead luminaries for dinner date.


Luminaries annoyed to be raised just for a dinner.


Dead luminaries form zombie army demanding their promised food.


Ramones reunite, play theme song as zombies take over school.


Dave points out that this movie has actually been made. I point out the differences between my genius concept, Frankenstein and Dr. Faustus. He directs me to the work of H.P. Lovecraft. He got me, the new DVD even comes with a matching highlighter!
Back to the scent:
I had expected Jacques Garcia, in it's heavy black glass bottle to be proper, perhaps even trite. Instead, when I sprayed it on my skin, I got a quick cool blast of the crypt. Wintergreen and lilies combine into something utterly necrotic. The opening is a little bit like the Frankenstein opening of JAR Bolt of Lightning.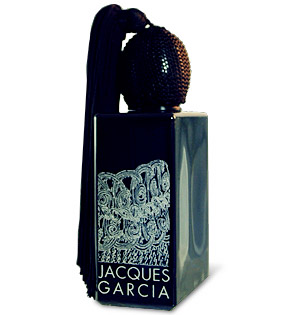 After a few minutes, the creature rises and her breath is soft and warm. Apricots and tuberose compose this new life among us. It's one of most unusual examples of narrative perfumery, and I've never smelled anything quite like it. The art direction is by Rami Mekdachi who also collaborated on the fabulous collection for the Hotel Costes. The nose is
Pierre Bourdon
who has played with hot/cold flashes in Cool Water and Parfums Frederic Malle's French Lover. There is an excellent review of Jacques Garcia's sister scent Gold at
Perfume Shrine
and a wealth of information on Rami Meddachi at
Aedes
. Silver is available at
LuckyScent
and Bergdorf Goodman.