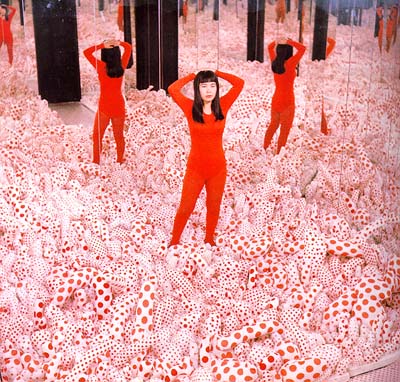 Yayoi Kusama
installation view, Infinity Mirror Room, Phalli's Field (or Floor Show) 1965 (no longer extant); reconstructed 1998. From
artnet
.
Perfume Shrine
has already posted a review of the new Comme des Garcons for H&M scent, and I'll throw in my own polka dotted two cents.
(In an interview, Jeff Koons said that the key to his success was polka dotted shirts. When he was selling memberships at the MoMA, in his signature shirts and suspenders, he managed to pull off "zany, yet inoffensive", apparently the magical cocktail for commercial success.)
So nu, CdGH&M is very pop, a perfect distillation of the CdG aesthetic. I was expecting a bland citrus like the energy series, because that would have been zany enough. (Dianu!) But no, they upped the ante, combining the larger than life smoky birch-tar/cedar of an amped up Hinoki with a fizzy citrus top note almost as an after thought. Like the clothing collection which sticks with dots as a major theme, and drives it home, the fragrance goes big and bold. (And much bigger and bolder than I would have expected.) H&M is not the place for subtle artistry, and the scent is as loud and brash as wood can be. Very cool.
David Ellis
, DRUM PAINTING PROJECT, V5.0 2005
Sorry, I couldn't resist: