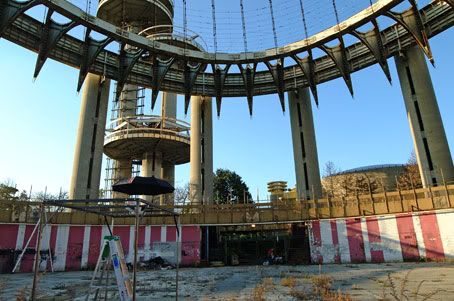 From the
Yatzer design link
to
the restoration of Anthony Auerbach's Empire State Pavilion
at the
Queens Museum
.
I was touched, (as I often am) by posts in
Christopher Brosius' Blog
. He describes the unusual connection he felt towards a stranger wearing his very personal Wild Hunt fragrance. The scent is brilliant, and in conjuring up the scent of a summer forest it has brought back my own memories of growing up.
Summers, my friends and I took a bus from our homes in Queens out to our summer arts day camp each morning. It was almost a two hour journey, so about half way we changed buses at a rendez-vous point in Queens. "Rendez-Vous" as we called it was the asphalt playground of a public school where we would wait half an hour for our second bus. But across the street was a small patch of wooded park which to us was a forest. We would explore the secluded reaches of the forest (often by necessity since Rendez-Vous had no bathrooms), and a friend who grew up in Russia even took us mushroom picking in this small green plot of land in eastern Queens.
Wild hunt is this quest, for an urban nature. Tamed in a bottle, we can find it daily, at the resting points in our journeys.