Memorial to the Idea of Man If He Was an Idea
(closed), 1958
by HC Westerman
(Check out a lovely guide to his work at
the Westerman Curriculum
page.)
While stopping by Bloomingdales yesterday for a frozen yogurt, I saw myriad red bottles out in preparation for the
official launch
on August 1st. Sadly, there were no samples to be had but a liberal dose on my left arm left a very favorable impression. The official word is that the scent by Oliver Cresp seeks to reconstruct "red" from roses and woods, much like the Comme des Garcons series which include Sequoia and Palisander.
My first impression is that the scent is much brighter than I'd expected. Tangy. Delicious. It starts with a very bright top note with citrus qualities that I couldn't quite place. It's very boozy fruity, like August harvest moonshine, and in retrospect it may have been a tangy over-ripe cassis accord.
It has the
little girl in mama shoes
sensibility of In Love - Hillary Duff. It's clearly a modern reworking, much tangier than earlier styles of perfumery, but it departs in a new direction - tangy woods. Who knew?
I had trouble detecting the rose, but that jammy boozy note reminded me of Cresp's very weird La Rose Angel. While La Rose Angel is the La Brea Tar Pits of Rose Jam, Magnifique throws a handfull of treats your way, with rose as only one element.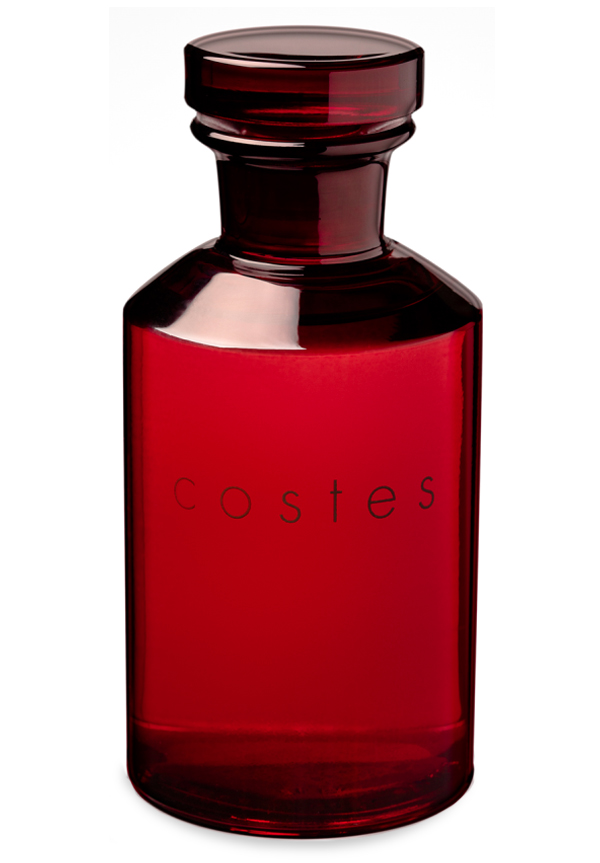 (Costes is available at
LuckyScent
At the heart, and visualy it reminded me of Costes. The tartness of Magnifique reads to me as a commercially branded feminine with a taffeta quality rather than the androgenous plush velvety softness of the spices of Costes, but they share a similar spirit, and like all fragrances it could be worn by either sex. Sharp up front, moving to plush, Magnifique Christian Louboutin stiletos sinking into a red carpet.
For me, it's the bright tartness that sets this one apart and makes it so curious. The dry down gets spicier and finally it fades into a soft cashmere woods scent not unlike Estee Lauder's Sensuous.
The bottle is striking from a distance but like many mass-market scents has a plastic top. It's designed to look like a classic boudoir item, but lacks the heft of niche-market packaging, and I do love a heavy glass apothecary stopper.
Jammy, tart, spicy woods? What's not to love? I'm looking forward to the official launch.